New Yorkers really love their Thai restaurants. They also like being seen to be trendy. Finally, they have pretty bland palates. Because most of the Thai places I've been to suck–unless you like eating vaguely Asian-like food in a dimly lit hipster bistro.
Which is why Thai Home Kitchen surprised me. Sure, it had the modern-looking decor (rock pool, orchids, etc.), so I was suspicious: but the food was actually good! The starter chive cakes were great, and G is convinced Bangkok's chinatown has a street vendor that serves the same thing (I didn't recall this, but it did taste familiar). My Seafood Kapow was beautifully topped with a pile of fried basil and was tasty enough, but G's Vegetarian Duck with Red Curry stole the show for flavour (a bit of sweet + spicy goes a long way).
Again, though we asked for extra spicy (which we now do in every Thai place), it was nothing compared to the average dish in Thailand. But since it tasted good, we'll take it.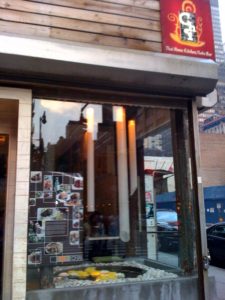 Chai Thai Home Kitchen
930 8th Ave.
(corner 55th St.)