I decided to hop on a bus yesterday and see where it takes me. after a gorgeous bus ride along the hill overlooking the south china sea (during which I passed a couple of beaches and repulse bay, apparently the residential playground of the rich, judging by the yachts all over the place), I ended up in stanley, on the south coast of hong kong island.
Stanley is no slouch for attracting foreign tourists: while I was walking through stanley market, the most common language I heard was… german. And another weird thing was that many of the prices were posted–whereas usually for the markets of this type, it's generally a bargaining exercise with no prices posted.
Example: I was at Ladies' Street Market in Mongkok the other day, looking for a scarf. I squeeze into one of the stalls and take a look at a pile of folded scarves. An Indian couple is looking at the same pile and asks how much (in english)? $129. I ask in mandarin what the price is, he replies (in chinese): $29. I end up buying for $20.
ok, enough digression, here are some pics!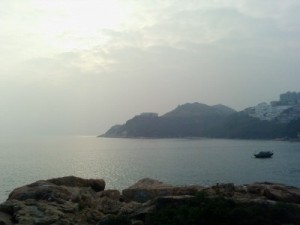 they're currently renovating the bayside walkway: here's one of the first stalls that is open–an old-school veggie stall in a modern glass encasement.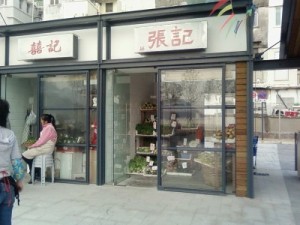 a tiny shrine.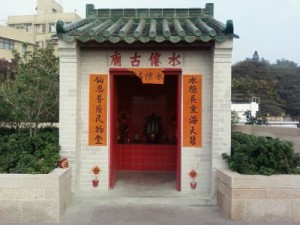 a pig shrine (year of the pig coming up):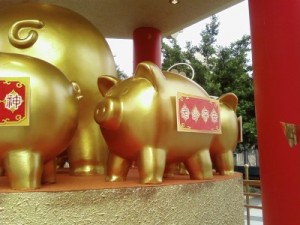 while on the topic of pigs…
a brochure I picked up at HBSC when I was opening a bank account. pig medals officially issued by the British Royal Mint! and how could I pass up a free golden pig of affluence? FREE!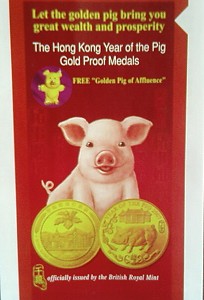 (the pig *is* really cute though.)