since I was relatively caught up on my reading, and the weather has finally warmed up, I grabbed a bus on saturday afternoon to aberdeen and took a wonderful boat ride out to lamma island (南丫岛), the third largest island in the area (after hong kong and lantau islands). Population of about 6000.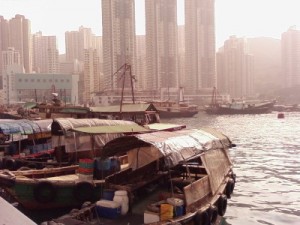 yung shue wan (榕樹灣) port on lamma island is pretty hippy. organic cafes, organic herb gardens, pets running around everywhere without leashes (island-wide policy), bead shops. after just glancing through (and noting the honeydew trees in someone's garden), I followed the one and only path going through the island, the "family trail".
I made one stop at the one place that had some (yummy) gingery and sweet silken tofu (豆花), but afterwards it was just the path and the hilly landscape. well, and the few other tourists walking around. but at least the air was actually kinda quiet–I hadn't really noticed until then just how noisy hong kong is (although I guess an indication would be the fact that I have my cellphone ringer on max, and I still can't hear it half the time).
I made it to the first (and apparently most popular in warmer months) beach on lamma island around sunset.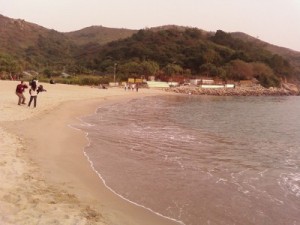 there was a group of young chinese people trying to learn some dance and hand drum thing from some black guy. (uhm… sometimes you just can't teach rhythm…)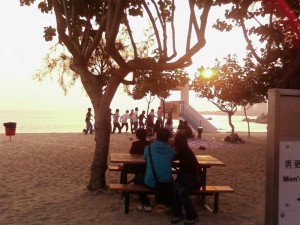 beautiful, huh? the view of the island's power station takes some getting used to though.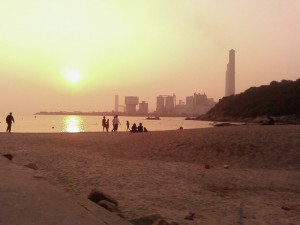 the island is quite small, so can be hiked in a couple of hours. there's also a second, somewhat prettier beach along the way, and another half-hour trail that I'll have to get back to, since it was too dark by the time I reached the second major port, sok kwu wan.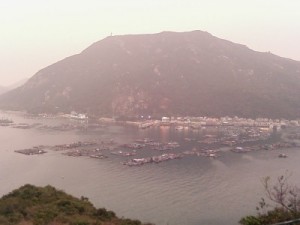 not a bad way to spend a beach and seafood day. ferry prices are HKD$12-14 each way and run about 10 times daily between Aberdeen or Central and either of the ports on Lamma.
and just to finally show a 'city' pic of HK, I took the ferry back to central and then grabbed the star ferry to tsim sha tsui, so here's a shot of a small portion of the largest skyline in the world… will have to wait until I get a real camera instead of using a cellphone to get a nicer view: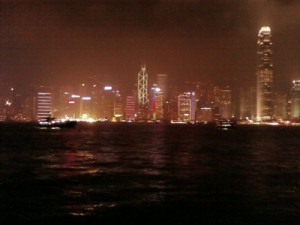 (though I must say, a cellphone that can take 2MP pictures is still pretty sweet. a very cool present from my generous uncle…)