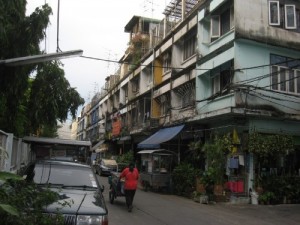 my apartment building is the white one on the end of this block, on baan phan tom (it doesn't show, but the building is much newer than the others at only 2 years old). every morning I walk out this small side street (trok), past a couple of very busy and tasty looking food stands–wish I could get out early enough to stop and eat, but no, must keep going!
I can continue along baan phan tom to exit out to the main street, phra sumen, where my work is located (just like this tuk-tuk is doing)…
…or what I am apt to do instead is walk along the klong a bit, a quieter way to work: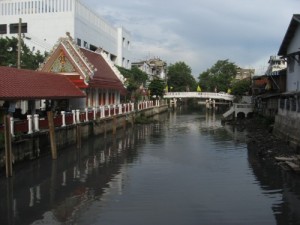 and as I did this today, I passed the usual plethora of food stalls–but then I saw one I hadn't noticed before: a woman grilling small packets wrapped in banana-leaf. I bought two at 7 baht each, and waited until I arrived at work to open them.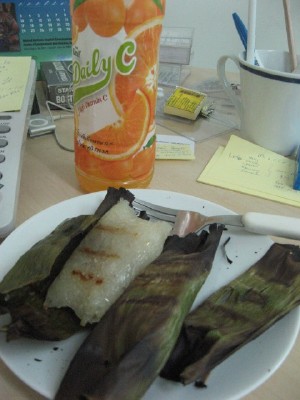 so delicious! called "khao tom mat" (you can find a lengthier description here on this awesome thai food website), it is essentially sweet sticky rice filled with either banana, taro, or coconut. so I think I found my new favourite breakfast for the next little while! (and ordinarily I would much rather have the freshly squeezed mandarin juice to go with it, but the juice lady ran out today).