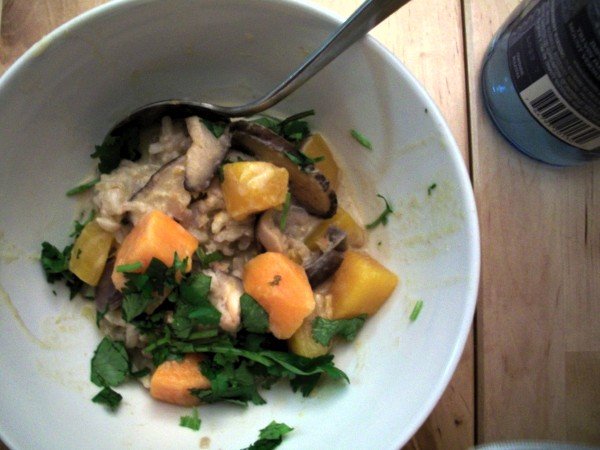 I love green curry, so I am taking note to remind myself how much better it is when you don't forget the lime at the end! I happened to have squash and sweet potato on hand, which made the dish look as wonderful as it tasted–but my favourite ingredient was the dried shiitake (which I rehydrated and threw into the curry with its water).
1 tablespoon cooking oil
1 onion, chopped
2 tablespoons green curry paste
whatever vegetables you'd like: eggplant, carrot, sweet potato, etc.
1 can (400 ml) coconut milk
1 cup (250 ml) vegetable stock
2 teaspoons brown sugar
2 teaspoons lime zest
2 tablespoons lime juice (about half a lime should do it)
fresh cilantro for serving
Heat the oil. Add onion and curry paste and fry for a couple of minutes. Add your veggies and fry for a bit before pouring in the coconut milk + stock. Bring to a boil. Lower the heat and simmer until the vegetables are tender. Mix in the sugar, lime zest & lime juice at the very end. eat with your favourite rice. yum.