I was supposed to take my parents somewhere to eat during their layover at JFK yesterday, but they didn't make it out of the airport due to ticketing problems. Not to waste an opportunity to eat away from Manhattan, G and I headed to Flushing anyway.
I wanted to try this new Qingdao restaurant called M&T, but it was closed–and being too cold a day to go exploring, we went back to our old standby: the jumble of basement food stalls known collectively as Golden Shopping Mall.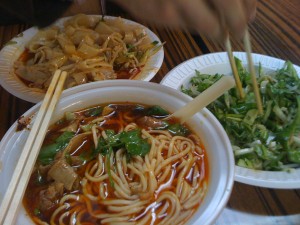 G went straight to "Xi An Famous Foods" (西安名吃)–which by the way now has swanky new signs, a video camera (?!), and wall photos of Anthony Bourdain enjoying their liangpi–and ordered a dish of cold skin noodles ("liang pi," 凉皮) and tiger salad ("lao hu cai," 老虎菜). I went to a sichuanese stall by the entrance to the mall and ordered a spicy beef noodle stew ("niu nan mian," 牛腩面). All three dishes were delicious, humble, and beat the pants off anything in Manhattan's Chinatown.
I must admit that the tiger salad defeated me: consisting of raw jalapeno peppers, scallions and cilantro in a vinegar sauce, one of the peppers was just too much… so I ran to the counter and asked for a plum drink ("suan mei tang," 酸梅湯), which is a typical drink to have with spicy hotpot.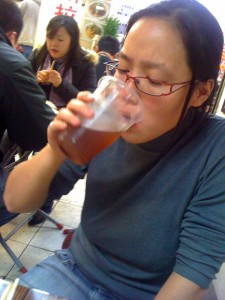 Total damage: liangpi $4, tiger salad $4.50, beef noodle $4.50, plum drink $1.50. And full + happy stomachs.
Golden Shopping Mall
41-28 Main St
New York, NY 11355
(map)