the spiciest dishes I had in thailand were not the curries, nor the tom yams, but the *salads*. here's the most popular, papaya salad (som tam):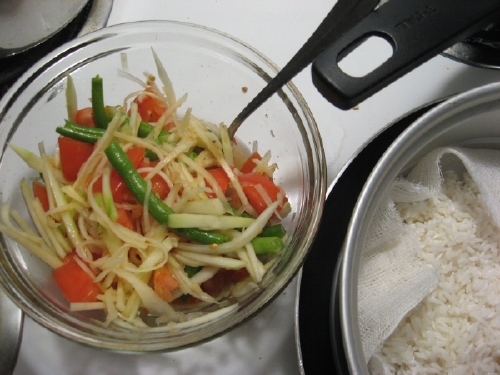 (Recipes are from Vatch's Thai Street Food by Vatcharin Bhumichitr.)
2 garlic cloves
3-4 small fresh red or green chilis
green beans
6 oz young green papaya, cut into fine slivers
1 tomato, cut up
2 tablespoons fish sauce
1 tablespoon sugar
2 tablespoons lime juice
[Note: add some dried shrimp and peanuts, because I forgot!]
Get a huge mortar. Pound the garlic, then add the chilies and pound again. Add green beans, stir in papaya. Lightly pound. Stir in the tomato and lightly pound again. Add the fish sauce, sugar, lime juice, mix it all up, and then… eat it with sticky rice.
STICKY or GLUTINOUS RICE
To cook 1 lb of sticky rice, cover in water and soak for at least 3 hours (overnight is better). Drain and rinse. Line the perforated part of a steamer with cheesecloth and place the rice on top. Bring the water in the bottom of the steamer to a boil and steam over moderate heat for 30 minutes.
…and if *that* works out, try STICKY RICE w/ MANGO:
250 ml coconut milk
2 tablespoons sugar
1/2 teaspoon salt
275 g (10 oz) sticky rice, cooked and still warm
4 ripe mangoes
2 tablespoons coconut cream
-Combine coconut milk and sugar in small saucepan and heat gently, stirring all the time until sugar is dissolved. Don't let it boil.
-Stir in the salt and warm sticky rice and set aside.
-Peel the mangoes and cut into slices.
-Place a mound of sticky rice in a dish and arrange mango around it. Pour the coconut cream over the rice. Serve warm or cold. And drool, suckers.