I heard there was a 'little sri lanka' on staten island, so I booted over there and had lunch at SanRasa restaurant, not too far from the ferry terminal, on Bay street.
The food was worth the two-hour trek (due to weekend subway rerouting, grr) to get there. We started with some yummy fried lentil patties (masala wale) accompanied by a sweet sauce, followed by a lovely vegetable curry that surprised me with its coconut base. And last but not least was the kottu roti, my raison d'être: kottu roti is basically made by frying and cutting up sri lankan style roti with (hopefully) spicy spicy curry (leaving your stomach burning even hours later).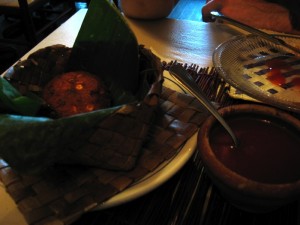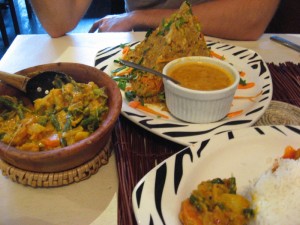 SanRasa was much fancier than I expected–not that it was particularly upscale, but it had a nice ambiance and the food presentation was good. I was rather expecting a small takeout joint: I'm used to kottu roti looking like this, not like a pyramid laced with delicate scallion and carrot slivers. Plus, at $10 a dish, this place is considered cheap eats by New York standards (even though that's twice the price of kottu at Jolee in Montreal, sigh).
Check out a video of street-style kottu roti here.
There is also a feature in the new york times about Staten Island restaurants, including a description of SanRasa and its $11 buffet lunch on Sundays. Worth checking out.
SanRasa
226 Bay Street
Staten Island, NY 10301
(718) 420-0027