I was in chinatown when I suddenly remembered I'd been craving congee–and how convenient, there was a place across the street from where I was standing called: Congee (well, congee city in chinese: 粥城).
and though it didn't look like the most elegant juk I've ever had, it tasted good! I had the fish and thousand-year-old egg congee (魚片皮蛋粥, "yu pian pi dan zhou") and chinese bread sticks (油條, "you tiao"). the congee was well flavoured throughout and there were small pieces of mustard green that made a nice crunchy addition. the youtiao weren't amazing, but generally this place was much better than the well-known Congee Village restaurant (which is more disney-esque and has mediocre congee) on Allen street.
while I was finishing up my meal, a couple of black women huffed out because of the poor 'service', though from what I'd seen they were treated in the normal way of typical canto restaurants. too bad for them, because this is the kind of service I like best: leave me alone, and if I want you, I'll get you.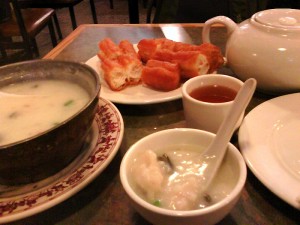 Congee (粥城)
98 Bowery
New York, NY 10013