HK is schizophrenic. My first few days here I wore myself out walking… I'm staying at hong kong university, located midway up the northwestern slope of Victoria peak on Hong Kong Island, with not much but middle-class housing staggered into jungle greenery. But walking from the main gate of campus it's not long before you hit the 'hallmark' of civilization (a.k.a. the concrete jungle)–the signature of hong kong. Though as you descend the hill towards the water there are tons of small shops selling knick-knacks like hell money and bamboo steamers… Plus there are several schools, churches, and church-schools. So at any given time you could be strolling with swarms of uniformed boys streaming down the hill with you.
Still on the way to Central is 海味街— (seafood street) where all the shops are filled with overflowing barrels and sacks of dried scallops, shrimp, and other dessicated delicacies. Make a turn and you wind up on birds nest/ginseng street, with giant shark fins adorning every window (well, usually in plexiglass cases). And of course the herbal medicine neighbourhood would be right next door.
On my first walk down this hill, just as I arrived just on the fringes of skyscraper-mania I noticed a small sign that pointed up some stairs: "mid-levels escalator". WOOT! I had read before that the longest escalator in the world was in HK, whose construction was meant to clear up traffic congestion in central hong kong. It's actually a series of escalators, starting as a moving sidewalk and progressively becoming steeper, and turning into stairs.
and it's freaking loooooong. I rode past restaurant after restaurant: all western style, all a bit kitsch. Welcome to SoHo, expat central (with lan kwai fong just to the west). All-you-can-eat sushi! Italian cuisine! Irish pub! Yuppy café! Not all that appealing, but I guess it's like the chinese equivalent to chinatown in any western city.
I never did make it to the end of the escalator, because… well, I got bored. It's just too long. Though I did stop at the machine that gives a $2 credit on your octopus card the next time you take the metro (placed surreptitiously mid-way up the escalator to give an incentive to use it). The rest of the day was spent admiring the (black) suits in the business area and the glitzy shopping malls…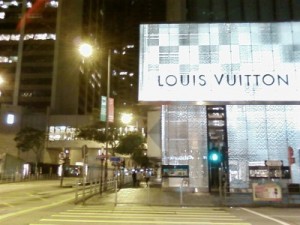 late-hour empty street in Central