I found a housewares store on the new hanoian that's semi-near my house, so I set off late morning yesterday to take a look (similar to ikea stuff, the place is called uma in case you're interested). all this to say, my browsing brought me well past lunchtime, and I noticed I didn't have enough cash to buy what I've been looking at anyway.
so I went to the nearest HSBC atm by my place. gloriously, just next to the atm (on the corner of Doi Can and Van Cao, to be exact) is a Bánh mỳ Huế restaurant.
and what is banh my hue? I've been wondering this for awhile, since this place is on my way to work and all I could see from the street were sizzling cast iron platters.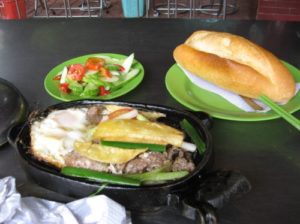 can there be a heartier meal than a plate of sizzling eggs, steak, spring onions, tomato, & potato? don't forget the side salad of pickled/chillied cucumber & tomato, and of course the bread (banh my). it might possibly cause your next heart attack, but it's damn good. one dish + Fanta: 59,000 dong.
(btw, Hue is a city in central Vietnam, and presumably the source of this dish)
today I decidedly went more low-key with breakfast, and opted for cháo–essentially vietnamese style congee–with chicken added (gà).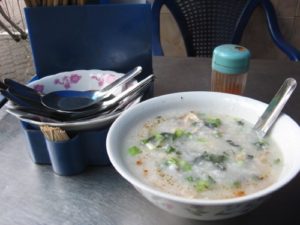 the surprising difference from chinese or thai congee is the herbs that are mixed in, the usual mix of basil/mint-ish leaves that you find with other dishes, as well as green onion. red and white pepper, to taste. one bowl: 20,000 dong.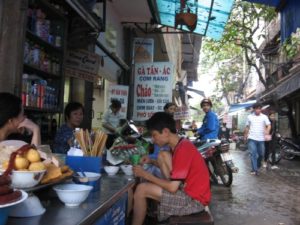 (small alley of chao places just at the start of hang bong street.)