the best food I've had in NYC was in a Flushing food court.
actually, the term 'food court' is misleading. it's more like a collection of half a dozen Chinese food stalls in the basement of a place called Golden Mall (also a misnomer because the 'mall' appears to consist entirely of this basement).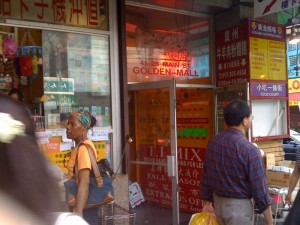 after hmm-ing and haw-ing awhile between the different stands we finally settled upon a place run by a guy from Xi'an. like all the other stalls, the menu items are displayed on the wall, with nothing in english (though the proprietor here spoke english and even some japanese, as he was joking with a couple of japanese girls that stumbled upon the place). I ordered the liangpi (涼皮) and cumin lamb hand-pulled noodles (孜然羊肉扯面, zi1 ran2 yang2 rou4 che3 mian4)–he asked if I wanted the lamb noodles fried or in soup, and I opted for the fried.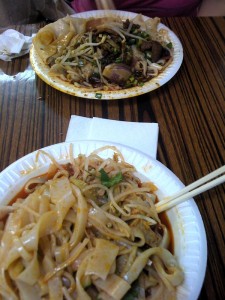 I haven't tasted anything so good since being in Beijing, where I used to be able to get liangpi for about a dollar, served in a plastic bag: cold noodles with sesame oil, chili oil, some wheat gluten 'skin', bean sprouts, cucumber–really tasty on a hot summer day. the cumin lamb has also been hard to come by outside of China since it is a specialty of the Uighurs, a Muslim population from the western province of Xinjiang. it was this type of food that surprised me most in China: the liberal use of cumin and chilis combined with a chinese style of cooking = culinary phenomenon.
Though not in Xinjiang (it is the capital of Shaanxi province), Xi'an marks the start of the Silk Road and has a large Muslim population–the most popular foods of which were offered at this Golden Mall food stall (you could also order lamb sandwiches and yang rou pao mo, a mutton stew with crumbled bread).
these dishes were so good. so so so so good.
despite its humble appearances, Golden Mall has already hit the culinary radar big time: the top google results for 'liangpi' led me to a nytimes article about the guy who runs this Xi'an food stall (he makes the liangpi noodles and wheat gluten from scratch "in a sauce that hits every possible flavor category (sweet, tangy, savory, herbal, nutty and dozens of others)") as well as a detailed blog from seriouseats about the 'mall' (apparently mr. liangpi sells 300-400 orders of the dish a day!).
I have to go back. I have to go back. anyone who comes to visit me in new york will have to suffer the hour-long trip to Queens for this.
Golden Mall
41-28 Main St
Queens, NY 11355
(Flushing)