looks like I'll have to come back to 丽江.
I got a bus yesterday morning out to Tiger Leaping Gorge, only to discover police at the entrance, barring anyone from entering. a huge landslide occurred in the past few days, killing a local–a young man who had just gotten married last year. word from an australian couple leaving the gorge is that it was possibly due to some dynamiting happening on the other side of the mountain, for (what else?) a new dam. and so the until the road is cleared, no one allowed in.
[though of course some locals offered to sneak me in. however I somehow thought better of defying Chinese police.]
and today I was also barred from entering elephant mountain (象山), because I was alone. it is ridiculously easy to enter the park without going through the official entrance (which btw charges an exorbitant 60Y fee if you aren't a student), and so only groups of 4 are allowed up the mountain, for "safety" reasons.
so rather than the obligatory photo shots of jade dragon snow mountain (玉龙雪山), I was forced to take captivating pictures around black dragon pool (黑龙潭­) instead.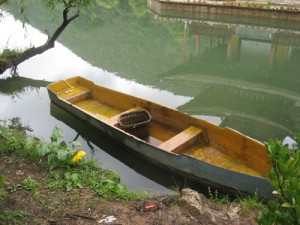 ironically, while unable to enter the gorge or the mountain, I've been struggling to figure out exactly how I was going to leave yunnan. (I mean, there are worse things than being trapped in china, but I suppose I need to… finish law school.) thanks to everyone who has been trying to help me get my flight to shenzhen in the past few days: sorry for all the bother. it -should- be alright now.
well let's see if I make it to Montreal first.