num pang means 'bread' or 'sandwich' in khmer (similar to the word banh my in vietnamese), and is the name of a new cambodian sandwich shop in the village. the bread here is to die for: crisp on the outside and deliciously chewy on the inside–better than any banh my I've ever had (and that's saying something).
I can't tell you how good the peppercorn catfish with sweet soy sauce tasted with the fresh slivers of cucumber, pickled carrots and cilantro–except that sandwiches should always be like this.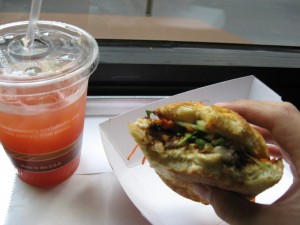 it is a bit fusion-like and slightly overpriced for the size, but still–so yummy! a quick look on the num pang website shows that the bread is made at Parisi Bakery, so I'm gonna have to check that place out too.
num pang sandwich shop
21 east 12th street, new york, ny 10003
http://www.numpangnyc.com/