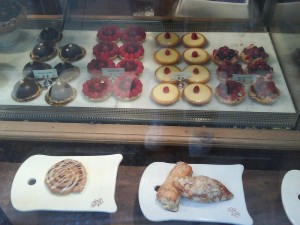 I've been dying to find a decent bakery or pâtisserie in the city. there are none in my neighbourhood, so when I saw this window in the Upper East, I immediately dove into the shop.
everything looked alright (looks like a bakery, smells like a bakery, must be a bakery?). but the prices are high, with each tartelette being at least $5-6. for some reason I didn't want to spend that much for a snack, so I settled on an apple-cinnamon muffin. I think it was $2.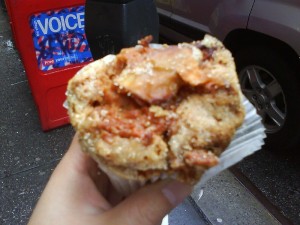 (sorry about the out-of-focus photo–it was taken with my cellphone). now back to the muffin: imagine eating a dense lump of indigestible dough; I mean, I was certain each bite was going to sit in my stomach for hours. what the hell? did I order the wrong thing again? (I've been giving a lot of places this benefit of the doubt). or can I finally definitely say that affordable baked goods in this city suck? (and don't get me started on how difficult it is to find decent bread around here…)
sigh.
le pain quotidien
833 Lexington Ave
(at 64th St E)