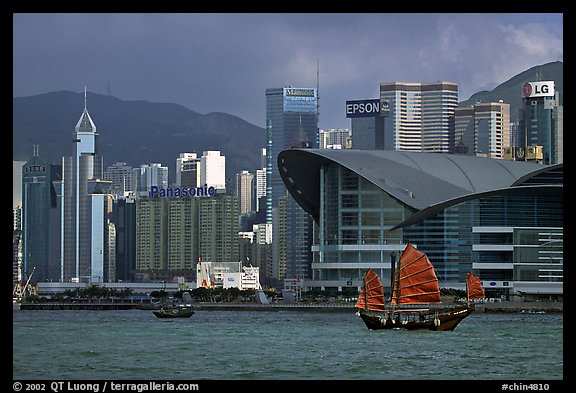 Much as the Prince d'Orléans chased chimerical and pensive women over the horizon, so I have made a habit over the years of attempting to track down old Chinese sailing junks. Once they were the sovereigns of the fisheries and of trade along the coast of China and down into South-East Asia. Just twenty years ago, I'm told, fleets of sailing junks would suddenly appear in Hong Kong waters, and vanish just as quickly. One day they disappeared for ever. I have spoken to old Chinese shipwrights, former builders of these junks. If you want to find the survivors, they advise, look down to the bottom of the country, where they were sold out of the service, or to Vietnam.
— correspondent's diary of China and its frontiers in this week's economist
The only sailing junk visible now in HK's victoria harbour has beautiful red sails–but this boat is for tourists, run by the aqua luna nightclub group, presumably to drink and party while it sails the tiny distance back and forth between hk island and TST.
Indulge in ultra hip cocktails and snacks while lounging in aqua luna's 1500 sq foot cabin and al freesco decks. Don't forget to hug the gigantuan tree masts with the red sails. And it's only polite to remember to close your mouth when the junk approaches you at the pier!