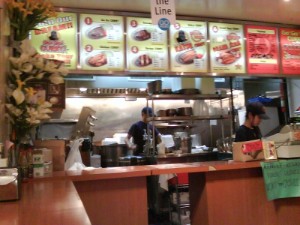 inspired by the village voice, I decided to head all the way down to west 38th for this japanese curry shop.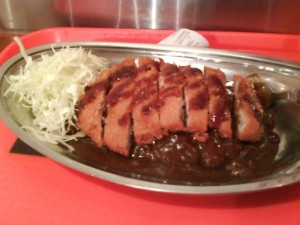 not too bad and quite filling (I had a medium sized katsu curry for $7.50, but there are smaller and larger portions too): basically a pork cutlet laid on top of a generous serving of rice and covered in curry sauce (which, as the menu notes by every item, "* contains pork").
the shop has a tv showing japanese food/game shows and pictures of baseballer Matsui all over the walls. but the best part was this poster I found in front of me, while I ate at the counter: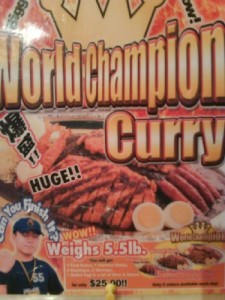 Biggest Curry in US as far as we know!
WORLD CHAMPION CURRY
Can you finish it?
HUGE!!
$25
WOW!!
Weighs 5.5lb.
Even that Hot Dog Eater would be overwhelmed!
(that 'hot dog eater' of course being the japanese dude that keeps winning the coney island hot dog-eating contest)
Go! Go! Curry
273 W 38th St, New York
www.gogocurryusa.com