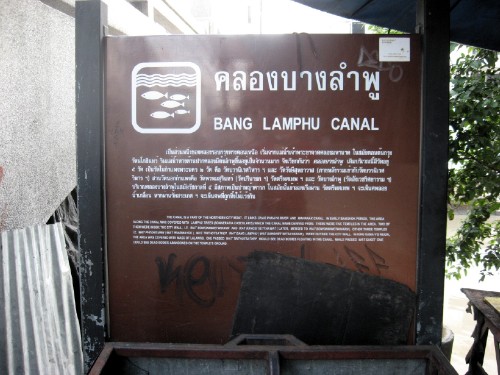 a noticeable tourism initiative found in bangkok are these brown panels on practically every block, informing you in a terse & disjointed manner (at least the english translations) the historical significance of whatever street corner you happen to be standing on.
though as a friend pointed out, sometimes if you actually read the whole thing it can be quite entertaining.
BANG LAMPHU CANAL: The canal is a part of the northern city moat. It links Chao Phraya River and Mahanak Canal. In early Bangkok period, the area along the canal was covered with Lamphu trees (sonneratia caseolaris) which the canal name derived from. There were five temples in the area. Two of them were inside the city wall, I.E. Wat Bowonniwetwiharn and Wat Rangsi Sutthawat (later, merged to Wat Bowonniwetwiharn). Other three temples I.E. Wat Phromsurin (Wat Prarinavok), Wat Trithotsathep, Wat Bang Lamphu (Wat Sangwet Witsayaram) were outside the city wall. In King Rama V's reign, the area was covered with mass of lalangs. One passed Wat Trithotsathep would see dead bodies floating in the canal, while passed Wat Saket one could see dead bodies abandoned on the temple's ground.