I could not leave HK without mentioning how lovely my last few days (post exams) were! I got to see some less visited places of the city, including the 10,000-buddha temple (boasting over twelve thousand buddhas), and kowloon-walled-city park (which is pleasant, though more interesting for its colourful history as a lawless enclave). I was also in town for the June 4th demonstration in victoria park to commemorate the tiananmen square massacre–and on the way I caught a glimpse of "long-hair" leung, rising to the occasion in causeway bay!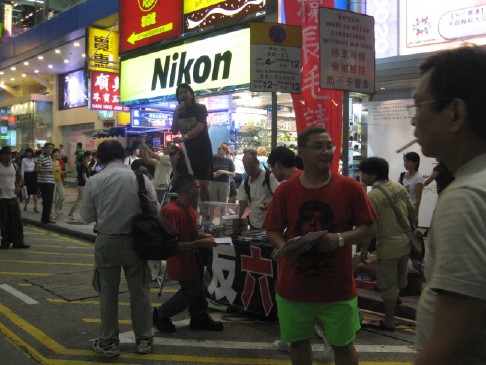 (hmmm, for once he is the one without the che shirt.)
and after a month of trying to go, I finally made it to the chinglish exhibit at the art museum. I loved it! it was like it was tailored for my taste, with lots of pieces circling around language plays and so on. totally mirrored my initial experiences in HK trying to figure out what the heck various signs and menus were saying in chinese (and realizing they were transliterations of english: like how 的士 could only ever mean "taxi" in cantonese, not mandarin).
here is a pattern made from english and canto swear words, that an artist used to cover an entire room from floor to ceiling: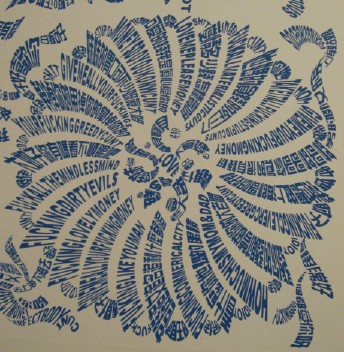 I also really liked this installation that projected your image with two cameras, while various chinese gibberish characters would fly between your movements: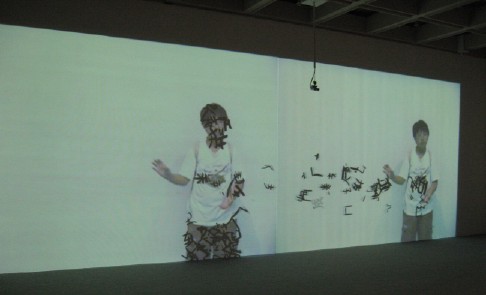 I'm glad I delayed my departure from HK at least a few days after my exams–it gave me the chance to say goodbye to the various friends I've met in the past few months, as well as having a swanky dim sum with my relatives (who would have thought of truffles in dumplings? the restaurant in the four seasons hotel, apparently.)
Even the air became "cleaner"! a friend mentioned that once it gets really hot in summer, the pollution rises higher in the atmosphere, showing off the city at its most spectacular. leaving HK at its best, and on a good note…