went to a fabulous restaurant last night on (49) hollywood road, near lan kwai fong.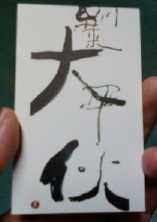 it's a sichuan-style restaurant called 大平伙, run by a painter. his wife does the cooking. I don't know how my aunt finds these places–set menu, and I believe set sitting time, in a small intimate place (about 4-5 tables only, and we were the largest group with 9 people). the owner would come out and explain the dishes: 4 appetizers, 7 main courses, each alternating with spicy and non-spicy. 酸辣苦瓜,口水鸡,鸡豆花… ending with the hottest 麻婆豆腐 I've ever tasted. and the most delicious 豆花 for dessert (served cold, with crunchy bits of asian pear).
the place was decorated with art done by the owner, and he showed us a book of his paintings… and after dinner, his wife came out and sang a traditional chinese song, in an operatic fashion. if anyone has the chance to go to this place: you just have to. (not sure if I heard correctly, I think the meal was about $250 HKD a person)
my aunt is an amazing foodie.