G and I are in Kenya for a 3-week holiday, and our only concrete plan was to take the overnight train to the coast. So shortly after arriving to Nairobi, we went to the railway station to check out our options.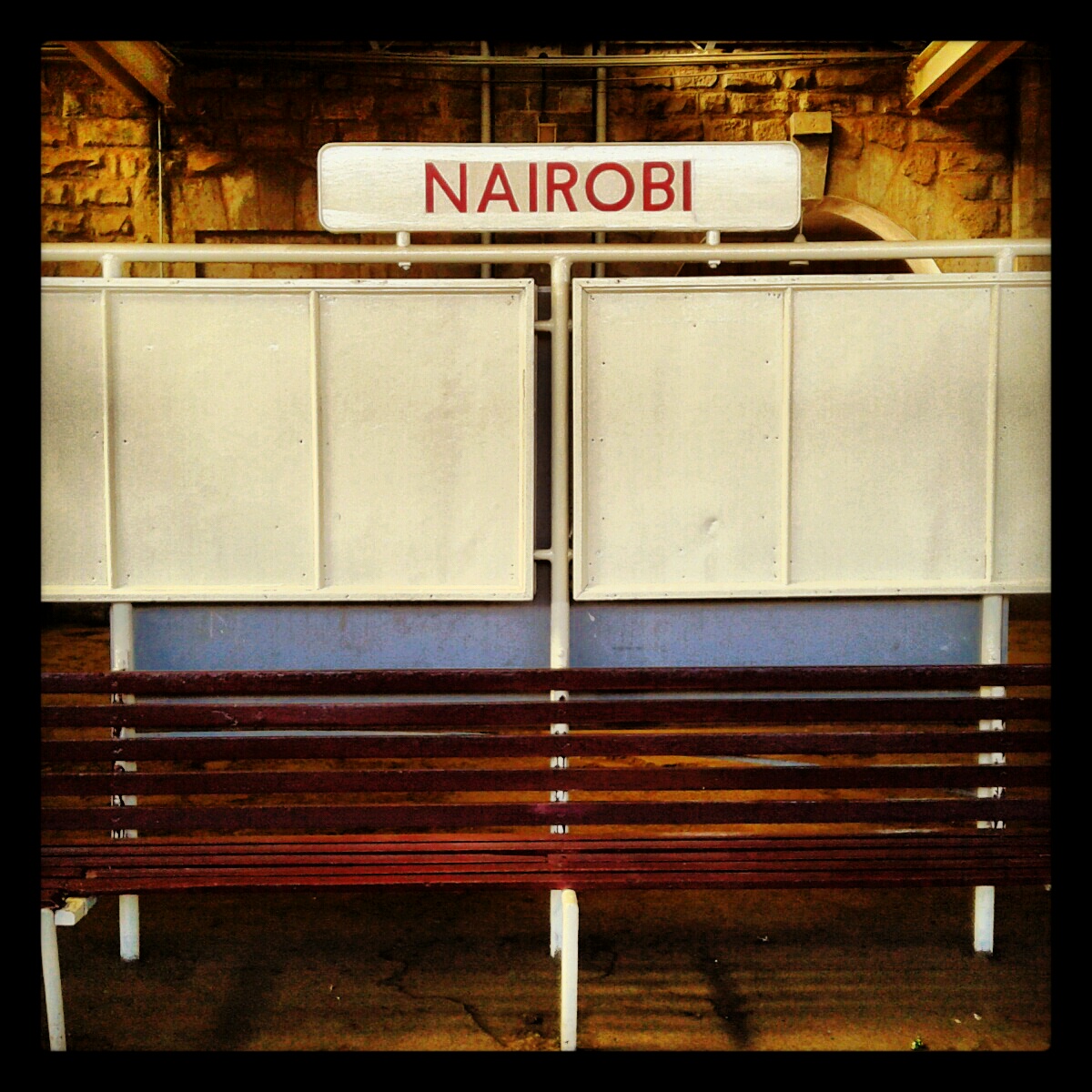 There is only one train route going through Nairobi: you can go east all the way to Mombasa, or west all the way to Kisumu (though a handscrawled note at the train station says the latter route is "suspended until further notice"). We booked first-class tickets to Mombasa for $50 each, which included dinner, breakfast, and a private 2-bed compartment. Trains for the coast leave every Mon-Wed-Fri at 7 PM, with an expected arrival of 10 AM the next day–so a 15-hour train ride, which would have otherwise taken 6 hours by car. Ah well, part of the charm, right?
Another part of the charm is that the train looks straight out of the 1960s (and probably is). While a water tap in our compartment claimed "drinking water", we didn't dare try it. And though each compartment had its own sink, you had to go to a shared toilet at the end of the car (the hole-type toilets). A final feature was the lighting in the compartment: it would be bright for about a minute, and then slowly and perceptibly get dimmer and dimmer for the next 4 minutes before resetting to bright again. Understandably this made reading a bit of a challenge (though good for speed-reading practice).
Dinner was an interesting affair. The dining car is so small that there are two seatings for dinner, and we were scheduled for the second seating. As we sat down, we inspected the menu:
Soup of the day
—
Chiken du chef
or
Beef grandmother's style
served with roasted potatoes or thai fried rice
& vegetables of the season
—
Tropical fruit salad
coffee/tea/drink cocoa/chocolate
Unfortunately second seating seems to mean whatever food is left, because we didn't end up seeing any grandma beef, potatoes, thai fried rice (unless by that they meant regular white rice), or vegetables. But hey, the menu sure looked nice.
The night was uneventful, though the fact that the train sat still for several hours should have been a warning sign. By our expected arrival time (10 AM), we didn't seem anywhere near the coast. At 11 we were notified that we were delayed because of a derailment ahead, and that we would probably start moving again in an hour–and if we stayed on the train we would be offered lunch. We moved again. We stopped again. Another derailment. Another promise of lunch. From our last known location and a guidebook, we figured we were only a half-hour drive from Mombasa. People streamed off the train. Touts 'kindly' offered to drive us to Mombasa for 6,000 shilling. We politely declined and stubbornly stayed on. Lunch at 2 PM. This time there was beef. Still not moving, and the lack of breeze made the heat stifling. 4 PM and we were off again!
We made it to Mombasa after 23 hours.
Many Kenyans think it's bizarre in the first place to take the train, knowing that by car or bus it would be much faster AND cheaper. But we weren't in a hurry, so we didn't mind. And it was on the train that I had my first zebra sighting! (somewhere in Tsavo, with its reddish earth.) The best part of all was seeing people in the fields as the train passed by: *everyone* stopped what they were doing and waved to us–especially the kids. The daily passing of the train (at what must be unpredictable times) was the highlight of their day.
See the full photoset here.