Stavanger is Norway's oil city, and so naturally I had to visit the oil museum. Norway was apparently a poor country less than two generations ago, but in 1969 oil was discovered in the North Sea. Since then, the government has been careful about limiting foreign rights to the oil. In 1972, Statoil was founded (though it was later partially privatized), and in 1975 Norway began exporting oil. Today, oil and gas accounts for a third of all of Norway's exports, with 1/8 of its GDP coming from the petroleum sector.
One of the more interesting uses of this oil windfall has been the Petroleum Fund (now called the Government Pension Fund – Global), whereby surplus income generated from petroleum is invested in a fund. In 2004, the government established ethical guidelines for investments and have even excluded certain companies from the Fund that are considered to be in breach of these guidelines (for example, tobacco companies, companies that have caused serious environmental damage, etc.). Wal-Mart was added to this list in 2006.
Anyway, back to the oil museum! Here is a letter from the President of Phillips Petroleum Company to the Norwegian government in 1962:
Phillips Petroleum Company is interested in obtaining from the Norwegian Government an oil and gas concession covering the lands lying beneath the territorial waters of Norway plus that portion of the continental shelf lying beneath the North Sea which may now or in the future belong to or be under the jurisdiction of Norway.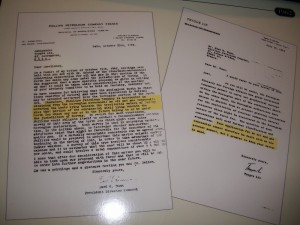 Response:
Your application for an oil and gas concession cannot therefore be dealt with at the present moment, but I promise to keep your letter in mind.
Here are Norway's 10 Oil Commandments: a declaration of principles governing oil policy that was adopted by parliament in 1971.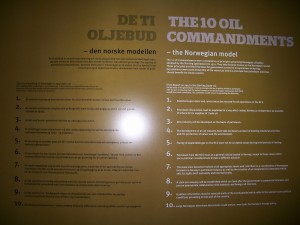 Finally, the value of the Petroleum Fund the day I visited the museum: