We did it. We bit the bullet and decided to travel for lunar new year to Norway. And we survived.
A 14-day quarantine plus 7-day "self management" period has been a requirement for all travellers to Taiwan for quite some time now. But in December 2021, owing to the anticipated large numbers of returnees for Chinese New Year, the Central Epidemic Command Center (CECC) announced that they would allow (doubly) vaccinated travellers to spend half of their quarantine time at home, instead of at a quarantine hotel. (This was awkwardly referred to in the media as the "7+7+7" quarantine.)
So what did this mean in practice? Well, for one thing, it meant that we were paranoid about testing positive for COVID prior to our return — which would have meant being barred from re-entering Taiwan. And it felt like everyone in Norway was catching it. We were meant to spend a weekend with some family friends at the cabin; but they called a few days prior to say that their daughter tested positive for COVID (after someone in her class had tested for it as well). Then we had a video call with another friend because her son tested positive as well…
In short, we had our own self-imposed quarantine bubble while we were in Norway. 😆 We self-tested (from kits I had bought at RT Mart in Taipei) a couple of times to make sure we hadn't caught the disease while traveling, and we primarily were in contact with 4 people for the majority of our stay.
The Return to Taiwan
To prepare for our return, we had to arrange for a PCR test within 2 days of our departure flight. This was arranged easily enough through a private clinic in downtown Stavanger. However, what we didn't count on, was how traumatized our son would be by the nasal test. In all honesty, I wouldn't call the test painful; it's best described as deeply uncomfortable. But this was just too much for our 8-year old boy. In the end, the woman administering the test barely touched his nose with the swab stick — but the psychological damage was done. (Luckily we were able to avoid the nose in later tests, but we did not know that would be possible at the time.)
At least we all tested negative. 😅
So then it was 24 hours before departure, and time to fill out the online entry form set up by Taiwan's Ministry of Health. This actually took me TWO HOURS to fill out for the 3 of us, mostly due to browser issues (the website was extremely finicky). In essence, after filling in your flight and ID information, you'll need to enter the information of your quarantine hotel (including the hotel's government-approved code, which will then auto populate the address into the form). Then, if you want to qualify for the home quarantine option, you need to also upload your vaccine certificates and enter your home address.
Ultimately, this form established where we would be staying during our quarantine, so that the government could arrange our quarantine taxis, assign minders to monitor us, and organize our PCR tests during quarantine. A logistical feat I did not appreciate until after everything was said and done.
I'm already tired of writing this, but to summarize:
2 days before departure: took the PCR test.
1 day before departure: filled out the online entry form.
During the flight (we had 3 flights spanning about 20 hours): feeling increasingly relieved as it looks like they'll actually let us back in the country!
Landing at Taoyuan Airport
Now for arrival. Starting in January 2022, the CECC set up PCR testing at Taoyuan airport for all arriving passengers (another logical feat that you have to see to believe). Our final leg was via Istanbul, and there were only 63 passengers on our (gigantic) plane. Once we had landed, a team of hazmat-suited people corralled us into a closed off gate area and seated us in socially-distanced formation.
Then they started calling out names on the loudspeaker and assigning numbers to us: they even gave us giant stickers to wear with our number that we had to keep until getting to the quarantine taxis outside the airport. The information from their list must have been pulled from the online forms we had submitted prior to departure; however, it somehow transpired that my passport number was off by one digit, and they were calling someone else's name (presumably the name of the person with that passport number). My husband and son were fine though (?). So in this manner, the suited-up team in white started calling out numbers and administering the COVID tests behind a partitioned area.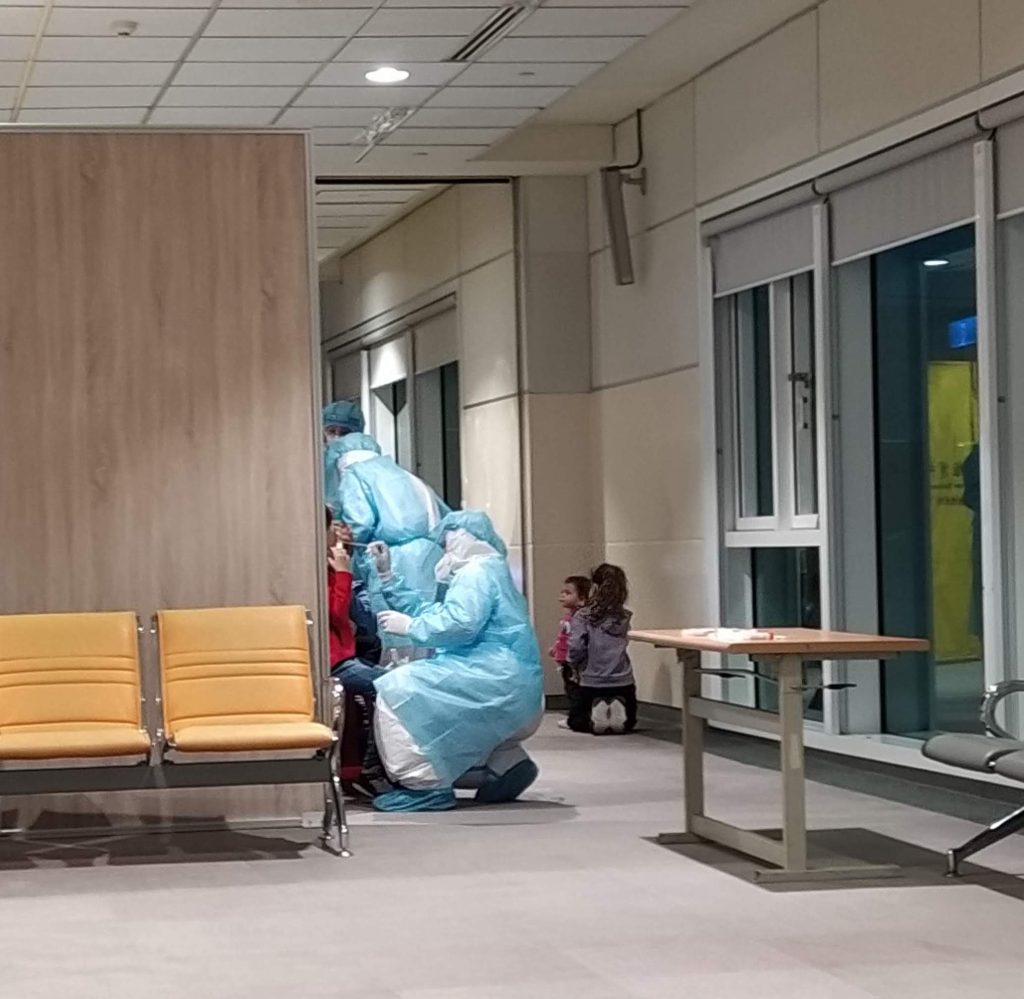 Thankfully, the nurses offered to throat-swab my son for the test — which he gratefully (and proudly) did. All tests done on kids seemed to be done this way. (Meanwhile, this particular test was the most painful I ever had. Really does depend on who administers it…)
Next, we waited for the tests to be processed. And this was the awkward part. First they called out a couple of individual numbers. And we watched as they pulled those people aside to a different seating area and gave them face shields to wear (over their mask). Then they would call out a range of numbers, like "1 to 10", saying they could leave.
While the team in white did this all without fanfare, it was clear that the individual numbers they called out were the people who had tested positive for COVID. 4 people out of our flight of 63 were pulled out this way. This was confirmed in the news the following day, as the CECC has periodically been reporting the number of positive tests detected on arrival at the airport: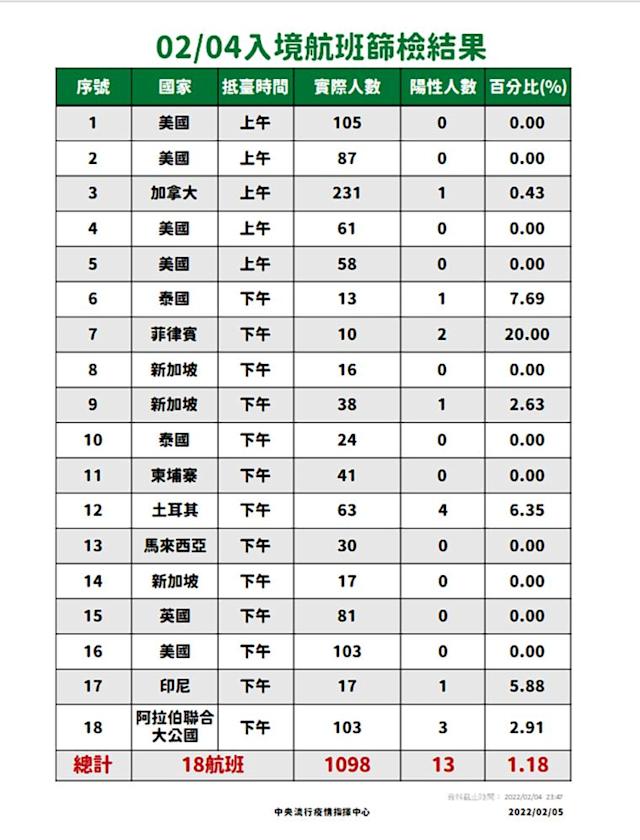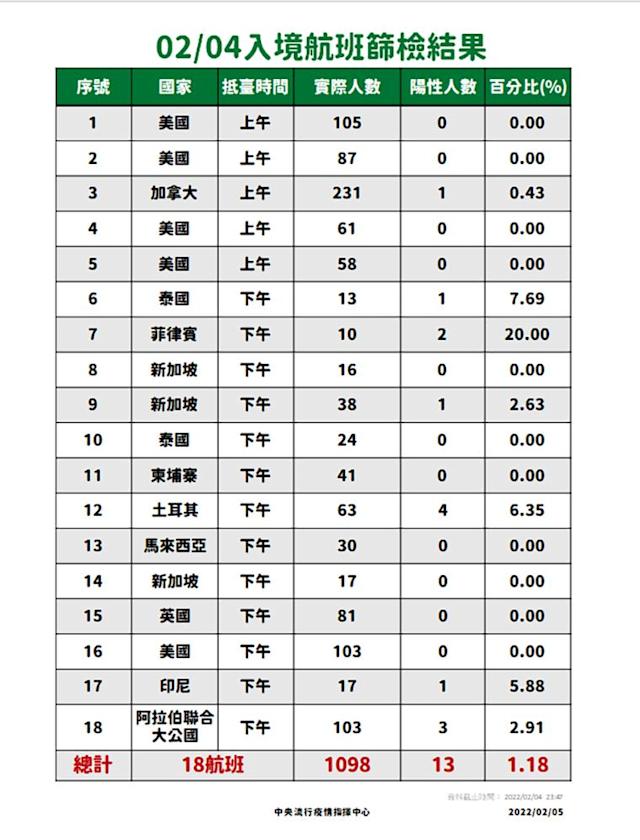 Once we were allowed to leave, we walked through the empty airport terminal to get to the luggage area. On the way, we passed a table set up for passengers who did not already have a Taiwanese SIM card. Everyone is required to have a Taiwanese number so that the CECC can track us during quarantine.
Next, we went through another checkpoint where we received boxes of rapid COVID tests we would have to self-administer during quarantine. They also asked us to take a photo of the test schedule (and if you are able to decipher the photo below, congratulations!); we would follow schedule "C", meaning we would need to take the tests on Days 3, 10, and 20; PCR tests would be arranged on Days 6 and 13.
Next was the luggage area, where our luggage had long been waiting. No issues for us here, so we quickly departed and made our way to the taxi line outside. I simply went to the taxi counter and gave my phone number or name (I can't remember); they already had my destination address so they promptly set us up with the next car in the queue.
These taxis are only allowed to operate as quarantine taxis for obvious reasons. All fares are capped to a maximum amount, based on your destination — I didn't take a photo, but for Taipei and New Taipei this was NT$1100. (It's also possible to drive all the way to Kaohsiung!) The driver had his own alcohol spray bottle that he attempted to spray us down with, including the soles of our shoes.
Our Quarantine Hotel
Given the confusing array of quarantine hotels, we had long ago booked Hi One (海灣) Holiday Hotel upon the recommendation of friends. For anyone traveling with kids, Hi One is a great hotel, as they have suites with plenty of space: ours had 2 bedrooms and 1 bathroom (they also had suites with 2 bathrooms). The price was NT$4500 per night for the suite, plus NT$800 per child; we also got a discount because we only took 2 (instead of 3) meals. I booked everything via their Line contact — and they didn't even require a deposit (which was a relief given how uncertain we were of being able to enter the country, depending on COVID).
(As you can see, the decor is a little dated, and yes, we are always a bit grossed out whenever there's a carpet — but all in all we were very happy with the large space.)
We stayed here from Feb 4-12, and at that time their kitchen prepared all the food: it was healthy and ample, even if we were getting tired of it after a week. Two portions (one with meat, one vegetarian) was enough for the three of us, though we also had some snacks in our luggage (and delivered to us by a friend via Lalamove). We only resorted to Food Panda maybe once or twice, for variety. Hotel policy was to have things delivered during their set meal times, but if they aren't busy they will simply send things up when they arrive. Garbage pickup is at a certain hour every day; you simply leave your garbage bag in a box outside the door. And nearly all communication with hotel staff was done via Line.
One advantage of Hi One Hotel is that it is a dedicated quarantine hotel, which meant that they kept abreast of the ever-changing quarantine regulations and pretty much took care of everything: when I originally booked them, there was no option of home quarantine; when this new option became available, they proactively emailed me to find out if I wanted to change our booking.
Daily Reporting and COVID Testing
Our arrival at the hotel was without too much fanfare; we didn't see anyone other than the single man that received us at a side entrance on the ground floor. The next day, I received a call to my mobile from a government worker in New Taipei (where the hotel is located), who explained that she would be arranging our PCR test and our quarantine taxi ride home, as well as calling every day to check in. My husband also received a call from a different minder, who got him to connect via Line. From then on, I would receive daily phone calls (that lasted about 5 seconds: "Everything OK?" — "Yep"), while my husband would get a daily SMS asking him to respond "1" if everything is fine, "2" if experiencing symptoms, etc. (Oddly, I never received these SMSs until I reached home quarantine.)
As I mentioned above, we were scheduled to have 6 COVID tests throughout our 3 weeks of 7+7+7: the airport test, 3 home tests, and 2 PCR tests. The PCR tests are scheduled the day before leaving hotel quarantine (Day 6) and the day before leaving home quarantine (Day 13), with the home tests smattered in between.
Our Day 6 PCR test was done at the door of our hotel room! Two kind nurses in the white hazmat suits arrived, tried chatting with S in English, and thankfully let him do the throat swab. They had me check our personal information (this time my ID number was wrong and my husband's birth date), which I think was used for our registration at the New Taipei hospital processing the tests. We didn't get to see any results, my minder simply told me all was fine when she called the next day.
Finally, our check out of the hotel involved simply leaving the key in the room and going downstairs via the assigned elevator to the waiting quarantine taxi (that was previously arranged by my minder). This driver also insisted on spraying the soles of our shoes. 🤷‍♀️
Home Quarantine
It was good to be back home, though it meant figuring out how to feed ourselves. 😅 (I upgraded to Food Panda Pro and ordered a bunch of groceries, including from a local wet market!) New location, new minder: I was now assigned to someone from our neighbourhood (德安里), who had me add her to Line and then fill out online forms for transferring to our new location. During our week at home, she arranged for garbage pickup from our door (!), as well as the quarantine taxi for our Day 13 PCR test — which was a drive-thru test:
The tests were quick (there were only 2 other cars) and painless, and the only issue that occurred was that we received SMS messages notifying that we had left our quarantine location and to return immediately. My government minder had warned me that this could happen though, and that if the police were to come that I should simply explain that we were out getting our COVID tests. 😆 (This actually happened to a friend of mine.)
So yeah, they are certainly tracking our phones to ensure we're not breaking quarantine.
All in all, the quarantine was not as bad as anticipated! I think it makes a big difference that S is bigger now and can play independently. (He also inexplicably loved watching NBA games on the hotel TV.) The only bummer was that his school did not allow him to come back during the final week of health self management, which we could have disputed but I did not want to cause trouble.
As of yesterday, Taiwan has shortened the quarantine requirement to 10 days, and this can be done at home. Already, there's talk of shortening down to 7 days by April. We definitely want to travel again this summer, so we'll be watching closely…