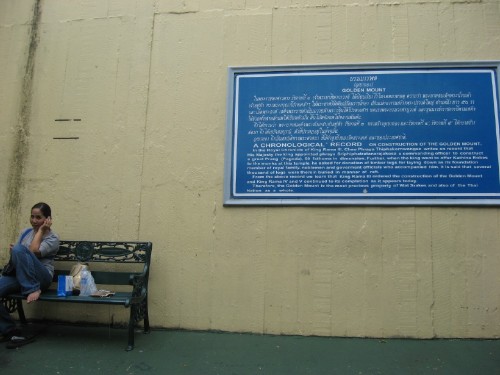 A CHRONOLOGICAL RECORD on construction of the Golden Mount. In the Royal Chronicle of King Rama III, Chao Phraya Thiphakornwongse writes on record that a great Prang (Pagoda), 50 fathoms in dimension. Further, when the king went to offer Kathina Robes to the monks at this temple, he asked for donation of timber logs for laying down as its foundation member of royal family, noblemen and goverment officials who accompanied him. It is said that several thousand of logs were therein buried in manner of raft.

From the above record we learn that King Rama III ordered the construction of the Golden Mount and King Rama IV and V continued to its completion as it appears today.

Therefore, the Golden Mount is the most precious property of Wat Srakes and also of the Thai Nation as a whole.
I always forget whether its the golden mount or mound, because it is really the latter that best describes it. the advantage of having such an insanely flat city such as bangkok is that even at 5-storeys or whatever this mound is, you get great views of the city. (but evidently I thought this picture was more interesting than those??)