in contemplating where to go for an extra long weekend, I thought about chiang mai, khanchanaburi, sukhothai, etc., but then realized I really just wanted to get away from as many farang as possible. so a place I had actually heard about just wouldn't cut it.
so I settled upon nakhon si thammarat.
I of course referred to my hated lonely planet, but not too much in there about getting to my first destination: hat nai phlao beach, near the village of khanom.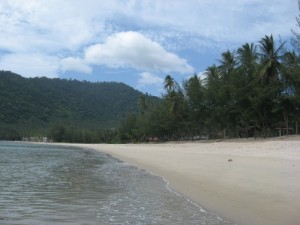 (this is for people searching for deserted beaches. that speck on the right there is my sandals.)
there's one bar and about 4 "resorts", mostly empty. the american owner of the bar says the 'crowds' I see are typical. (I spent the day on the beach and saw a total of 5 people in 6 hours). apparently it's just a little too adventurous to get here without knowing thai.
oh right. how I got there.
from the crappy map I had, I decided that Surat Thani was probably the closest major city to Khanom. from bangkok I hopped on a sleeper train that was due to arrive into the city around 6.30 am.
most tourists get off here to go to koh samui. so as soon as we arrived, I watched where all the foreigners were walking (and the opportunistic thais following them), and walked in the complete opposite direction.
the train station isn't actually in the city. so when I bumped into this large orange bus that looked like a city bus, I asked the driver "Surat Thani?" He nodded and I got shuffled in next to him, as the rest of the bus was full of morning commuters. 12 baht and 45 minutes later the bus terminated in town at talat kaset bus station.
a similar trick of just asking people "bai Khanom?" landed me on two sownthiaws on my way to that village (costing 80 baht total).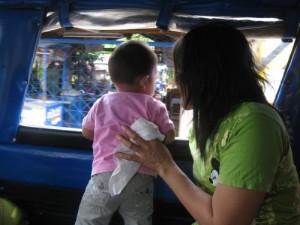 after 75 minutes the 2nd sownthiaw dropped me off on this random road/highway (presumably near khanom), saying (I think) that I would have to find my way to hat nai phlao from here, and that a moto would probably cost like 100 baht. of course, a motorcycle guy promptly came up and offered. of course I promptly refused (dammit, I just drove over 2 hours for less than that price).
stubborn, I know.
so I walked down the road to figure out where I was. ended up at some car repair shop, and asked how to get to hat nai phlao (assuming there must be regular buses there). the guy working there offered to drive me for 50 baht. sure.
it's only a 10 km road, and there are no buses–because there are no people there! even to get back out of the place, all the resorts were charging 200 baht for a ride to khanom (at which of course I scoffed and starting walking down the road until a lady at the little kitchen-building next to the big "Supar Beach" hotel offered to take me there for 50 baht).
so yeah, a little adventurous I suppose. and totally worth it.